Anabis Musc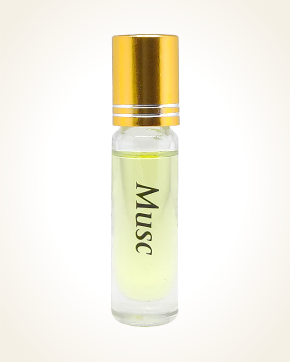 Anabis Musc
Concentrated Perfume Oil 5 ml
In Stock
Concentrated Perfume Oil Sample 0.5 ml
In Stock
Description
Musk seductive, musk elegant, musk playful - musk ... what you can imagine, but especially embracing - you will feel it in Anabis Musc perfume.
Orange juice with rose petals shows gentle tones in the opening performance. Hebkost will start the onset of musk, which resonates with a creamy peach.
The notes of white jasmine, opulent magnolia, and rare irises are lightly drenched into the fruit notes by a straw that is warmed by a creamy whipped vanilla with a scented musk scent.
Softly graceful is the echo of rare tree species, the herbaceous earths are patchouli chords, which combine its depth with once again showing the fragile beauty of the sensual musk.

Customer Reviews (7)
Musk by Anabis - can you add something to this favorite? I have it in both oil and perfume water. I use oil when I want the scent to stick to my body, I prefer to spray it on my clothes again, then it goes beautifully into the space. The oil form on my skin sounds more powdery and animalistic, a bit reminiscent of almond cream AB from the pre-revolutionary period, I really liked its scent. Edp is so airier and reminds me of both freshly washed laundry (without the intrusive scent of some fabric softeners) dried in the sun, in the garden where spring flowers bloom, and blown out by the spring air. (09.02.2021 - Petra.P.)

Hello, so it's speed - ordered on Thursday and on Friday a package at my desk at work :-) :-) Thank you. I have tried from you almost all scents where musk appears and they are beautiful, some are more wearable for me, among those I rank first Anabis Musc and Surrati Royal Musk, then I like Musk Narcissus a lot, it's so more festive, powdered scent. I already have the 4th bottle of Anabis Musc, it is my companion for work and in a good mood. Thank you once again for the beautiful scents and incredibly fast delivery. Have a nice day all over Anabis (18.09.2020 - Martina M.)

Anabis Musc is a very pleasant, unobtrusive fragrance, which initially excels in its purity with warm tones of roses, but after a few minutes it spills full sweet-woody tones and creates a distinctive aroma mixed with an elegant combination of musk and woody species. The smell is not aggressive, it surrounds a person and creates a pleasant atmosphere of everyday. The durability of this unique fragrance corresponds to delicacy, after 6h it is very gentle. Thank you and have a nice day. Yours sincerely (13/09/2019 - Markéta Š.)

Hello Lenka, yesterday the package with beautiful bags arrived. Thank you very much! Meanwhile, I get to know the perfume Musc and it seems that it already smells our whole house. It actually smelled as soon as I unpacked the package before I even opened the bottle. Gradually I will smell and try, it can not in one day. You are right, it is something quite different from ordinary perfumes that I do not possess at all. Yesterday's testing had a funny continuation. The girls came home one by one and called to her husband: Dad, jee, you shaved, didn't you? From the front door. One by one, my dad said no that it was my mother's scent. Girls excited to sniff me. In the morning I come to the office and the smell is still here :-))) Be careful to close the samples, thanks for the warning. And thank you again, have a nice day, (21.1.2019 - Eva C.)

A beautiful, feminine, but delicate fragrance, not too sweet, not too spicy, it is also not bland, perfectly balanced, relaxing, just my scent. (13.1.2019 - Marta, Poland)

Hello ladies-sorceress, with great delay I would like to thank you for úúúúžasné perfumes, which with regular small gifts deliver supersonic speed ... In the last order I could not resist and equipped with several samples of unexplored fragrances. I was very impressed by musk Anabis Musc and his gentler sister Adalet - both scents are very similar in their own way and yet each other. Both are clean, light, fresh and sexy - Musc holds on me longer and more intensely, Adalet seems creamy and powdery ... She looks innocent like a baby's clean smell, but beneath them is hidden vices ... Both are definitely worth it! (12/18/2018 - Katka H.)

Anabis Musc is like a spring afternoon, when the sun is already strong and its rays embrace like beloved arms and yet the air is still cool. The cold gives the smell something green, some herbs or leaves ... The smell is round and smooth, as pure as white-washed freshly washed laundry. She doesn't miss a drop of sensuality. In contrast to her, you are always guided by a sense of innocence and tenderness. Překrásná pižmovka! I would say one of the most beautiful ever! (11/25/2018 - Lenka S.)

Have you tried one of our perfumes?
Let us know
how you like it!
You might also like